These Are The Best Cruiser Motorcycles To Buy On A Budget
7 min read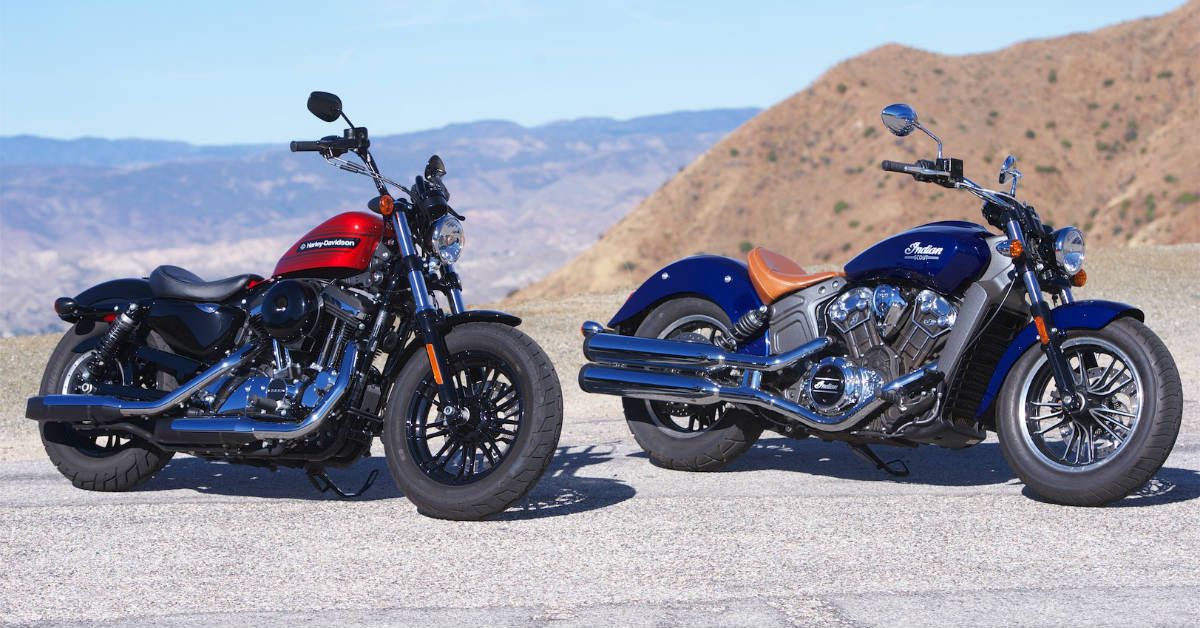 Every motorcycle enthusiast has a secret wish list of some darn expensive motorcycles they would love to own. However, despite all best intentions to this end, the harsh economic climate in the recent past has pressed most people into budgets. The upside to this reality is that there are numerous admirable motorcycles that you can throw a leg over and still have tons of fun without beheading your current financial goals.
Related: These Are The Best Touring Motorcycles To Buy On A Budget
Of course, the used market is rich in cheap second-hand bikes, but motorcycle companies are quickly wising up to consumer trends. Remember the cruiser models no one wanted to buy in previous years? Well, competition in the motorcycle industry has driven these companies to revamp and upgrade their cruiser lineups to tap the emerging niche. As a result, the market is now flooded with impressive cruisers that are not only affordable but highly reliable. Since we want to help you sort through the vast array of motorcycles, here are some of the best cruisers to buy on a budget.
10


Royal Enfield Meteor 350
Despite their fast growth in European and Latin American markets, Royal Enfield motorcycles are not as popular in the US market. So, to commemorate 120 years in motorcycling, the India-based manufacturer unveiled the 2021 Meteor 350. This timeless small-cruiser made an impressive statement from the get-go, winning three awards at the 2021 Car and Bike Awards. The Meteor 350 also won Indian Motorcycle of the Year 2021 and earned Top Gear's award for Motorcycle of the Year 2021.
At the heart of the Meteor 350 is a 349cc air-oil cooled SOHC engine that boasts a long stroke and electronic fuel injection system. Although the 20.2hp may not be the most thrilling, the price alone makes it one of the cruiser bargains of the year. With as little as $4,600 in your budget, you can get the Royal Enfield Meteor 350 in Stellar, Fireball, and Supernova variants.
9


Honda Shadow Phantom
Despite its efforts to remain subtle, the Honda Shadow Phantom's bobber-inspired design, wide frame, and matte finish make it stick out like a sore thumb. But don't let the 25.8-inch seat height fool you; this bike feels bigger than it appears. Nevertheless, the Shadow Phantom has remained one of the most popular options in Honda's lineup for its minimalist styling, comfort, driving ability, easy handling, and impeccable center of gravity.
Related: 10 Coolest Honda Motorcycles Ever Made, Ranked
The Honda Shadow Phantom boasts a smooth-running liquid-cooled 745cc SOHC V-twin motor with throaty twin exhausts. In addition to its high reliability, the V-twin delivers an impressive estimated fuel consumption rating of 56mpg. The Shadow Phantom is available for a suggested $7,899, and you get to choose between Matte Black Metallic and Adventure Green color options.
8


Kawasaki Vulcan S
The Kawasaki Vulcan S excels in its unique blend of vintage styling with modern, aggressive riding options. The leading feature in this bike has to be the Kawasaki Ergo-Fit concept that allows for three variable footpeg positions and three different rider positions. Although the three-model 2021 Vulcan S family remains unchanged from the previous year, riders still appreciate the bike's ability to deliver sporty performance.
Also returning for 2021 is the Ninja-derived 649cc DOHC powerplant. In addition to the low-slung chassis, the bike offers a generous 31-degree rake and an ample 62-inch wheelbase to offer class-leading stability. The Metallic Flat Raw Graystone ABS model goes for $7,599, while the Pearl Blizzard White non-ABS model is available for $7,199. The premium ABS Cafe is available in Pearl Storm Gray or Ebony color options and retails for $8,199.
7


Yamaha Bolt R-Spec
Described as an 'urban performance bobber,' the Yamaha Bolt R-Spec is the sole representative of the Bolt line for the 2021 model year. This slightly retro-styled cruiser delivers stable handling and light maneuverability thanks to its low seat design and slim body frame. In addition, the Bolt R-Spec utilizes Yamaha's rider-focused technology to create a superior riding experience.
Within the compact chassis lies a 60-degree air-cooled 942cc V-twin that's not overwhelming for newbies nor too small for experienced riders to outgrow. The Yamaha Bolt R-Spec boasts a short wheelbase, good throttle response, and even powerband. Over and above the attractive sporting character, the $8,499 price tag is an excellent match.
6


Moto Guzzi V7 Stone
2021 is a special year for Moto Guzzi as they commemorate 100 years of faithfully handing down the Mandello bike DNA from one model to the next. Moto Guzzi revived the nostalgic V7 to celebrate the past and represent the future by marking this impressive milestone. The 2021 V7 Stone Centenario pays tribute to the 1955 Otto cilindri through its silver fuel tank, green front fenders, and side panels.
Related: Everything You Need To Know About Moto Guzzi
The modern V7 maintains the sculpted tank, round headlight, dual shocks, dry clutch, and dual exhaust from the original model. However, the engine is upgraded to a larger 853cc Euro 5-compliant engine with a few elements derived from previous V9 and V85TT models. The 2021 Moto Guzzi V7 Stone is available at an affordable $9,190 retail price.
5


Honda Rebel 1100
It's now common for cruisers to deliver relaxed riding positions and low seat heights, but the Rebel 1100's actual arm-straightening performance is one factor that most cruisers don't offer. Furthermore, the bike's suspension and chassis let riders dial up the pace around twisties, arguably changing how we think about cruisers. The color options for the Rebel 1100 are Metallic Black and Bordeaux Red Metallic.
In the 2021 model year, the Honda Rebel 1100 comes with the liquid-cooled 1084cc parallel-twin Unicam engine that has already been proved in the Africa twin. The bike is also equipped with four rider modes, cruise control, and ABS. Regardless of whether you choose the conventional six-speed manual or the revolutionary DCT auto transmission on the Rebel 1100, you can't complain much about the $9,299 retail price.
4


Indian Scout Sixty
The Indian Scout Sixty flaunts a unique design where classic design cues blend in tandem with modern design. According to Indian, the Scout Sixty's headlight, wheels, fenders, and the engine is inspired by the O.G. 1920s Scout. However, this old-school style is balanced out by modern components like liquid-cooling, electronic fuel injections, and the optional ABS.
For 2021, the Indian Scout Sixty remains unchanged, apart from extra accessories and new color options. That means the bike retains the exact blacked-out 78hp 60 cubic inches liquid-cooled V-twin from the previous model year. The non-ABS Scout Sixty comes in Thunder Black and starts at $9,499. On the other hand, the ABS variants are available in Thunder Black for $10,299 and Ruby Metallic for an extra $500.
3


Harley-Davidson Iron 1200
The HD Iron 1200 proudly reminds us of its Sportster heritage with its blacked-out chopper profile, aggressive mini-ape hanger handlebars, 29-inch café solo seat height, upright riding position, and mid-mounted foot controls. Also, the 70s-inspired tank graphics, cowled headlight, and fork-slider covers are hard to overlook as part of the bike's signature aesthetics.
Related: Things Are Finally Looking Good For Harley-Davidson
Under the teardrop gas tank lies an air-cooled 1200cc Evolution engine capable of 73ft-lb of torque. The Iron 1200 also boasts a blacked speed screen and black 9-spoke cast-aluminum wheels. Vivid Black is the standard color option for 2021, while the Black Denim and Stone Washed White Pearl will incur an additional $350. For this Harley bad boy, the $10,249 tag is still on the affordable side.
2


Triumph Bonneville Bobber
The 2021 Triumph Bonneville Bobber is still a rolling homage model that reminds us of Triumph's rich history of home job custom bikes that prevailed in the early post-war years. The bike features characteristic bellow-style gaiters, chopped-down front, and rear fenders, single round headlight housing, short-rise handlebars, 27-inch seat height, switchable traction control, and all-around ABS.
Tucked within the Bonneville Bobber's faux-rigid frame is a 270-degree liquid-cooled 1200cc SOHC parallel-twin powerplant capable of 76hp and 78lb-ft peak torque. Unfortunately, for 2021, the paint and price for the bike are inextricably linked. The glossy Jet Black starts at $13,150, the mid-range Cordovan Red demands $13,450, while the top offering comes in a two-toned Matt Storm Grey/Matt Ironstone for $13,650.
1


Suzuki M109R B.O.S.S
The Suzuki M109R is undoubtedly one of those bikes that get your adrenaline pumping every time you ride. Furthermore, its incomparable black color scheme, aggressive styling, drag-style bars, slash-cut mufflers, solo-seat cowl, and distinctive Suzuki headlight make it an instant head-turner.
If looks don't sell you on this bike, then the massively torquey 54-degree 1783cc V-twin should convince you. The 109 cubic inch engine utilizes some of the most oversized pistons in the industry, making it a powerful cruiser that only a few could compare. For 2021, the Suzuki M109R B.O.S.S is available in a pair of new two-tone color options; Metallic Triton Blue and Glass Sparkle Black or Candy Daring Red and Glass Sparkle Black. Considering what the bike has to offer, the $15,249 price tag is a fair offering.
This Is The Best Way To Buy A Used Harley-Davidson
Harley-Davidson has just created its own craigslist for used motorcycles.
Read Next
About The Author