NTI Townsville 500, Shane van Gisbergen, live, blog, results, standings, pole, grid, video, highlights
5 min read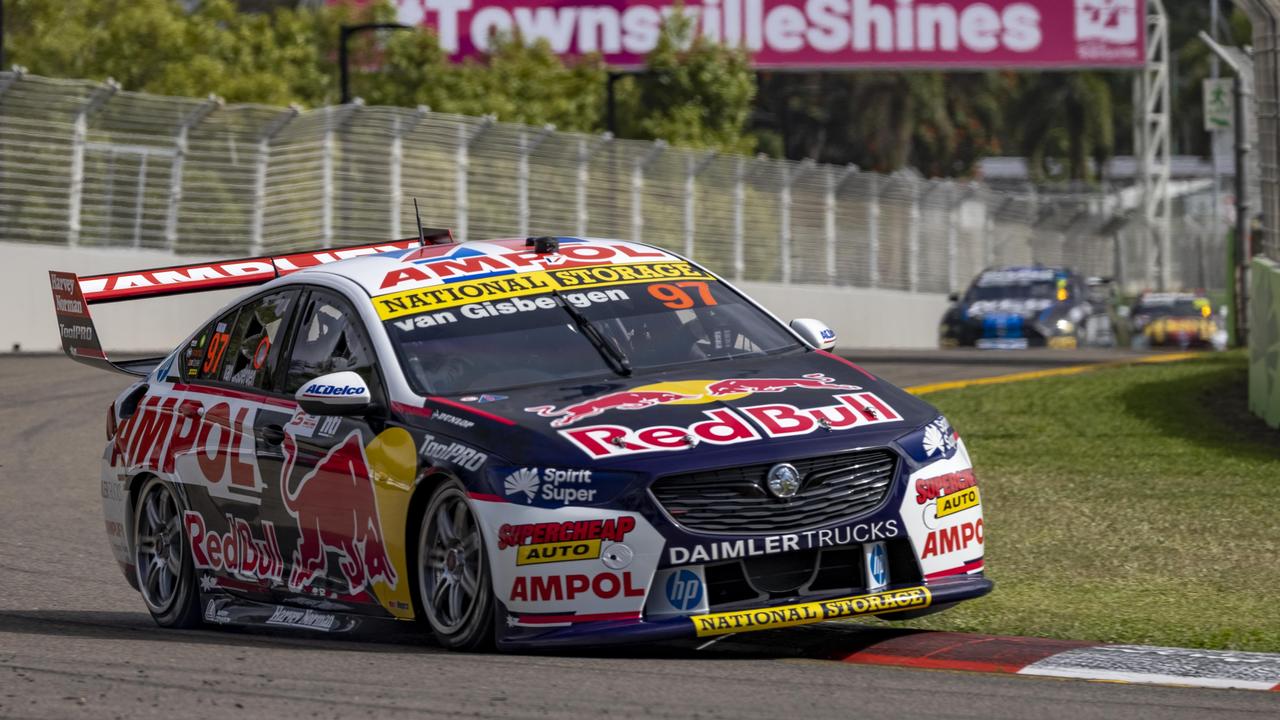 Shane van Gisbergen has outlasted teammate Jamie Whincup to win the NTI Townsville 500 opener.
Pole-sitter van Gisbergen lost the lead to Whincup off the line, and it took 70 laps for the series leader to regain the front-running.
It marked van Gisbergen's ninth win in 15 starts this season, helping him to a career-best season tally.
Stream Every Practice, Qualifier & Race of the 2021 Repco Supercars Championship Live & On-Demand on Kayo. New to Kayo? Try 14-Days Free Now >
It was an enthralling intra-team battle, with Red Bull Ampol Racing claiming a dominant one-two finish.
Anton De Pasquale was third, albeit a staggering 37.4s down, with Nick Percat a further 11.4s down in fourth.
It was Whincup won the race to the Turn 1 kink and enjoyed a clear lead through the Turn 2 hairpin.
Behind the two Red Bull Ampol Commodores, the jostling for position was frantic.
Notably, Will Davison had been shuffled from third to seventh, with Jack Le Brocq demoted from seventh to 14th.
James Courtney, who started sixth, found himself third behind Whincup and van Gisbergen, who began to pull away.
Whincup had a three-second buffer over van Gisbergen after 17 laps, with Courtney 5.1s down on the series leader.
Courtney began to fall into the clutches of De Pasquale, with Percat also closing in.
De Pasquale made the move for third stick at the final corner on lap 22, with Percat clearing the 2010 champion at Turn 3 a short time later.
Behind them, David Reynolds, Davison, Tim Slade and Scott Pye were covered by just 2.3s as the first round of stops approached.
Reynolds and Kelly Grove Racing opted for an aggressive undercut and stopped on lap 25, with Reynolds stationary for 14 seconds.
All the while, Whincup found himself in a gaggle of midfielders, including the Erebus duo and Chaz Mostert, which had stopped early.
On fresh tyres, Will Brown, Brodie Kostecki and Chaz Mostert all ran their own races around Whincup, who had extended his lead over van Gisbergen to five seconds.
Having been cleared by De Pasquale and Percat, Courtney made his stop on lap 29.
He rejoined in clear air, but a major lockup at Turn 2 not only cost him time, but dropped him down the order as the pit cycle played out.
Davison stopped on lap 28 and was stationary for 16 seconds, with Whincup coming in from the lead on the following lap.
De Pasquale, Percat and Cameron Waters followed him in, with Whincup stationary for approximately 16 seconds.
It released van Gisbergen, who stopped on lap 33 for approximately 19 seconds.
De Pasquale's undercut paid immediate dividends, with the #11 Shell V-Power Racing Team Ford rounding up van Gisbergen around the Turn 1 sweeper.
It took four laps for van Gisbergen to chase and overtake De Pasquale; by then, Whincup enjoyed a margin of 11.4s.
At the halfway mark, van Gisbergen had slashed Whincup's margin to 6.9s, with the leader needing to retain a near three-second margin to safeguard his fuel margin.
De Pasquale was dropping near to a second per lap to van Gisbergen, with Percat 3.6s down in fourth, who in turn was 6.3s ahead of Reynolds.
Whincup's lead was six seconds when the leaders commenced lap 50.
Brown was again first to blink on lap 52, with the Erebus rookie kicking off the second pit cycle.
Van Gisbergen was reeling in Whincup by nearly half a second per lap, with the margin reduced to 4.5s on lap 53.
Percat was brought in on lap 54 from fourth, locking in the Brad Jones Racing driver for a 33-lap stint to the flag.
The #8 R&J Batteries Commodore was released ahead of van Gisbergen, who was less than three seconds down on Whincup.
Seconds earlier, running effective fifth, Pye suffered a broken steering arm and slid into the Turn 9 exit concrete. He managed to return the #20 DEWALT entry to the garage.
Through 58 laps, van Gisbergen trailed Whincup by 1.8s when the leader came in for his second stop.
Whincup took on the remaining fuel he needed, and was stationary for approximately 20 seconds.
De Pasquale, who was 14 second down on van Gisbergen, stopped on the following lap.
The Shell squad completed two stops in as many laps as Davison stopped, with the two-time Bathurst winner shadowed at pit exit by Slade.
Whincup was again forced to fight through traffic as he attempted to make the most of his undercut, with van Gisbergen opting to run longer.
Van Gisbergen's lead was 47 seconds as the Red Bull Ampol crew readied for the series leader.
The race-defining stop came on the end of lap 64, with van Gisbergen stationary for approximately 16 seconds.
Whincup sailed through and regained the lead, with the margin between the teammates 3.8s.
Critically, van Gisbergen enjoyed a six-lap tyre advantage, with De Pasquale a distant third, 18 seconds adrift.
The margin was below two seconds with 20 laps remaining, with both drivers fighting through the heavy traffic.
On lap 70, van Gisbergen was less than a second behind, with his teammate the only thing standing in the way of a ninth win of the season, and sixth in Townsville.
At Turn 11, the series leader made his move under brakes, with Whincup defenceless to cling on.
It had taken 70 laps and 200km of racing, but van Gisbergen had finally worked his way into the lead he lost in the opening seconds.
Van Gisbergen needed little invitation to build a gap, with Whincup losing roughly 0.4s a lap to the new leader following the overtake.
A trying afternoon got worse for Davison, who on lap 85, stopped again after being short of his fuel drop.
It dropped Davison to ninth and a lap off the pace, with Waters allowed safe passage into eighth when the #17 Mustang rejoined.
Whincup conceded defeat, with van Gisbergen crossing the line with a seven-second margin.
Just seven cars finished on the lead lap, with Reynolds, Slade and Courtney the only other cars on the same tour as the winner.
Van Gisbergen will take a 233-point lead over Whincup into Sunday. Mostert, who was only 14th, retained third overall, but is 317 points behind.
"That was real physical," van Gisbergen said.
"Thanks to Red Bull Ampol Racing, our cars were awesome. It was super cool.
"I knew I had one shot [to pass Whincup] before the tyres cooked, and I got him. Real cool."
Whincup was disappointed to fall so far behind after leading for the balance of the race.
"I've got to see where the seven seconds is, for sure," Whincup said.
"I don't know whether it's car, driver, strategy, not sure. But I'll certainly go hunting for that.
"Sweet and sour; I'm obviously rapt for the team, but disappointed for the 88 crew we couldn't go one better after a really good start."
Cars will return on Sunday for ARMOR ALL Qualifying at 10:10am AEST, with a Top 10 Shootout following at 12:05pm.
The second 88-lap, 250km race will commence at 2:45pm.