[ad_1]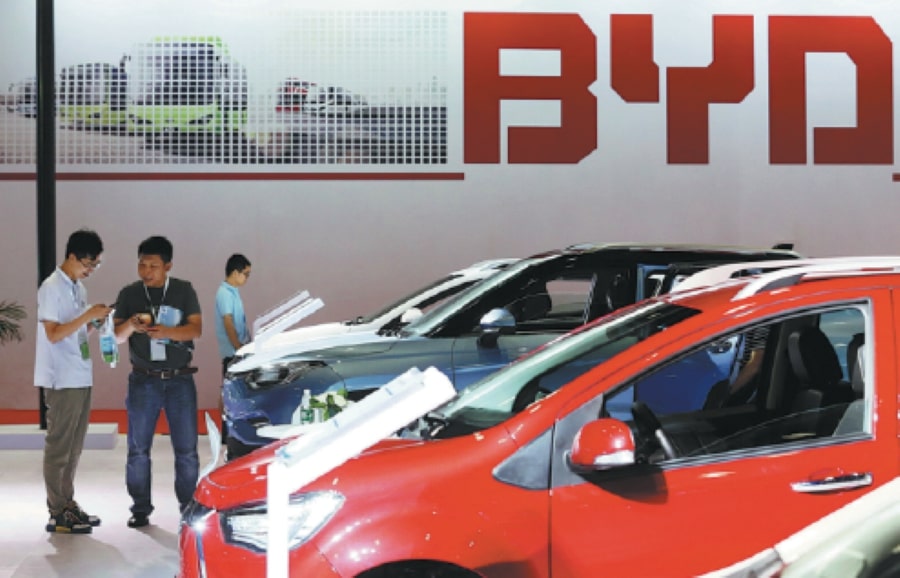 Although Chinese automaker BYD, which is backed by legendary investor Warren Buffett, has announced it has stopped producing traditional fossil fuel-powered vehicles since March, its production shift entirely to electric cars and plug-in hybrids is a natural progression, given that new energy vehicles dominate the company's sales figures. Yet, gasoline vehicles are expected to take the lion's share in the overall vehicle market for some time to come, said analysts.
In the first two months of this year, BYD's new energy vehicle sales soared 494 percent to 181,451 units, giving the company the No 1 position in the Chinese NEV market, according to the company's filing with the Shenzhen Stock Exchange.
In contrast, BYD sold 5,049 gasoline vehicles or 2.7 percent of its total deliveries, a far cry from the 18 percent, or 136,348 gasoline vehicles, for the whole of last year.
Roy Lu, an independent auto analyst in Shanghai, said, "BYD's decision (to make only NEVs) is not applicable to others in the industry, at least not for the time being."
Lu also said BYD is less competitive in the gasoline car segment compared with other local marques like Changan or Geely, let alone international ones, but it leads them all in NEV sales.
The Shenzhen, Guangdong province-headquartered BYD, now the world's first carmaker to quit the fossil fuel-powered vehicle segment, said on Sunday it will continue to produce and supply components for existing owners of such cars and provide service and after-sales guarantees to them.
NEVs accounted for 19 percent of China's market of 4.27 million units in the first two months, data from the China Association of Automobile Manufacturers showed.
Zhang Xiang, a researcher at North China University of Technology in Beijing, said, "So, by getting relieved of the burden of gasoline vehicles, BYD is highlighting its transition from a carmaker to a 'technology company' like popular startups Tesla and Nio did in the past."
In China, Tesla is BYD's major rival, usually the runner-up since it runs a local production unit in Shanghai. Chinese startups from Nio to Xpeng are also seeing their monthly sales grow to exceed 10,000 units, with the introduction of more models and growing trust from tech-savvy car buyers.
Zhang Hong, an official at the China Auto Dealers Association, said BYD's expertise is mainly in NEVs and its plug-in models have been in short supply. "So, it's not surprising for BYD to make the decision (to produce only NEVs from now on)."
Different from electric cars, plug-in hybrids can run on both gasoline and electricity.
In a filing with the Shenzhen Stock Exchange, BYD said its DM-i technology has enabled its models to have a range of over 1,000 kilometers on a single full charge and thus help it to explore the market where charging facilities are few.
Despite BYD's moves, other carmakers have not released plans to follow suit. They are not in a position to stop production and sales of gasoline cars, although they have ambitious plans to electrify their vehicles.
China's largest SUV and pickup truck maker Great Wall Motors said vehicles with at least some form of electrification will account for 80 percent of its deliveries by 2025.Last year, the figure was nearly 11 percent of its total sales.
Geely, which owns Swedish carmaker Volvo and shares in Mercedes-Benz, saw NEVs account for a mere 7.5 percent of its 1.33 million unit deliveries in 2021.
The China Association of Automobile Manufacturers said it expects NEV sales this year to reach 5 million vehicles in the country, up from 3.5 million units in 2021.
That would account for around 18 percent of an estimated 27.5 million vehicles to be sold in China, the world's largest NEV market, said the association.
[ad_2]

Source link